No need to formulate from scratch. Start with SureNano™, then add your cannabis extract and distilled water. It's almost too simple.
SureNano™ is a ready-to-mix formula that contains everything needed to produce high quality nano-emulsions. Our nano-emulsifier is a food grade compound that provides the base for high performance hemp and cannabis nano-emulsions.
The fastest path into the Cannabis 2.0 Marketplace.
Our 100% plant derived formula contains only 6 ingredients, no synthetic compounds. SureNano™ creates the most effective and reliable water dispersible cannabinoids for infused product makers.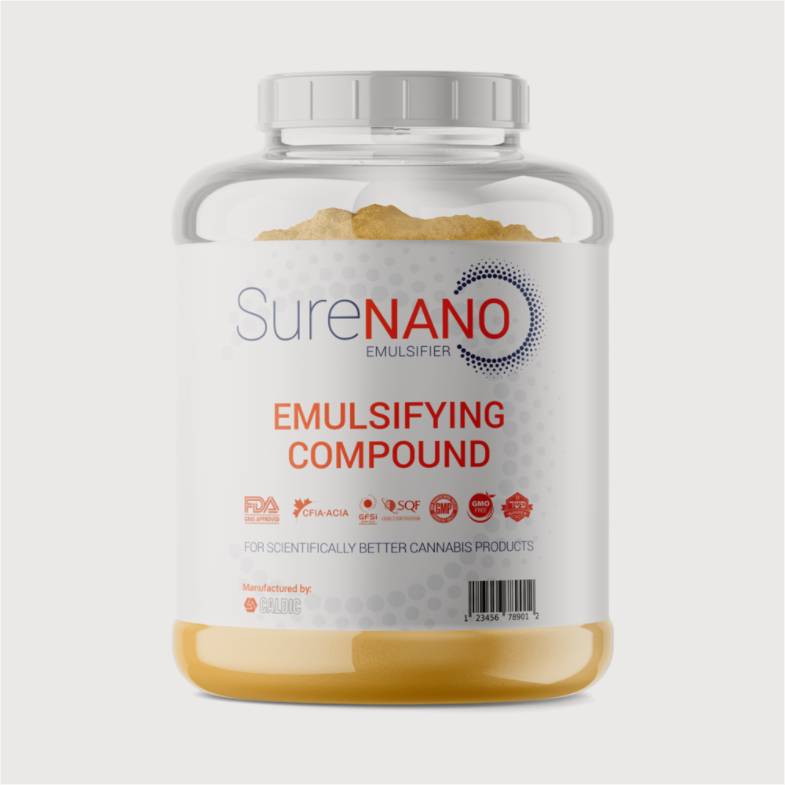 The SureNano™ Difference
Our blended emulsifier solutions empower you to create incredibly homogeneous and stable products while maximizing bioavailability, clarity, and taste. Perfect for producers looking to build CBD and hemp-infused sprays, beverages, food items, and topicals.
Water-soluble emulsion technology for any active cannabinoid oil.
Bioavailability
Our state of the art emulsifier and systems ensure an average droplet size of 40 to 50 nanometers. This results in increased clarity in finished products. Our water-dispersible solutions are far more bioavailable than conventional oils with greater consistency of onset and intensity of effects with onset in as little as 6 minutes in a beverage.
Stability & Clarity
Our emulsifier compound creates the strongest encapsulation you will find on the market today. No separation, sedimentation, or droplet size increases in 2+ years in water. A stable encapsulation results in longer shelf life and better digestion. SureNanoTM is blended under licence by the manufacturer Caldic International to ensure consistency.
Taste Modulation
SureNano™ includes Free Flavor technology designed specifically to reduce the naturally bitter notes of many cannabinoids included CBD and THC. Free Flavor allows for greater flexibility and the use of traditional flavoring techniques which, without Free Flavor are ineffective against nano encapsulated compounds.
Open Entourage Technology
Onset time, duration, intensity, energy, anxiety, confusion are just some of the facets of cannabis intoxication that are modulated by the entourage effect. The composition of the oil, including terpenes, flavinoids and cannabinoids defines the experience a consumer will have. SureNano™ will deliver the full oil composition allowing you to pair the character of the intoxication to the values of your brand.
Lymphatic Pathway Digestion (LPD)
The nano-emulsion will provide a safer and more familiar experience to consumers. Cannabinoids in edibles are typically digested through a pathway that leads directly to the liver where they are altered to become a different compound. SureNano™ was specifically formulated with LPD technology to promote lymphatic pathway digestion which avoids the liver.
Safety: GRAS to GMP Standards
SureNano™ is fully compliant with FDA and Health Canada food regulations for cannabis edibles and nano-emulsions in food and beverages. Every component of our formula is recognized as safe (GRAS). SureNano™ is blended under licence by the manufacturer Caldic International. They adhere to all significant food manufacturing certifications.
We're more than an ingredient supplier.
We're a partner. And we're Global.
We work closely with our clients to ensure successful product launches. Our team of experts work closely with you throughout the manufacturing process to achieve target potency and accelerate your products to market.

Supply Chain Agreements
Supplying partners with our stabilizing formulations with the optimal blend of carrier oils, emulsifiers, anti-oxidants, and preservatives until you're ready to create your own.

Accelerated Facility Setup
Not all our partners have processing labs. We have three lab packages to help you set up your own, including the equipment you need to create world class nano-emulsions at various scales of production.

Knowledge Transfer
As part of our mission to make nano-emulsion technology accessible to all, we'll be training your team on R&D approaches for customizing your own formulations and providing training and ongoing support.
Contact us.
SureNano Science Ltd.
#350 – 1650 West 2nd Avenue
Vancouver, BC V6J 1H4